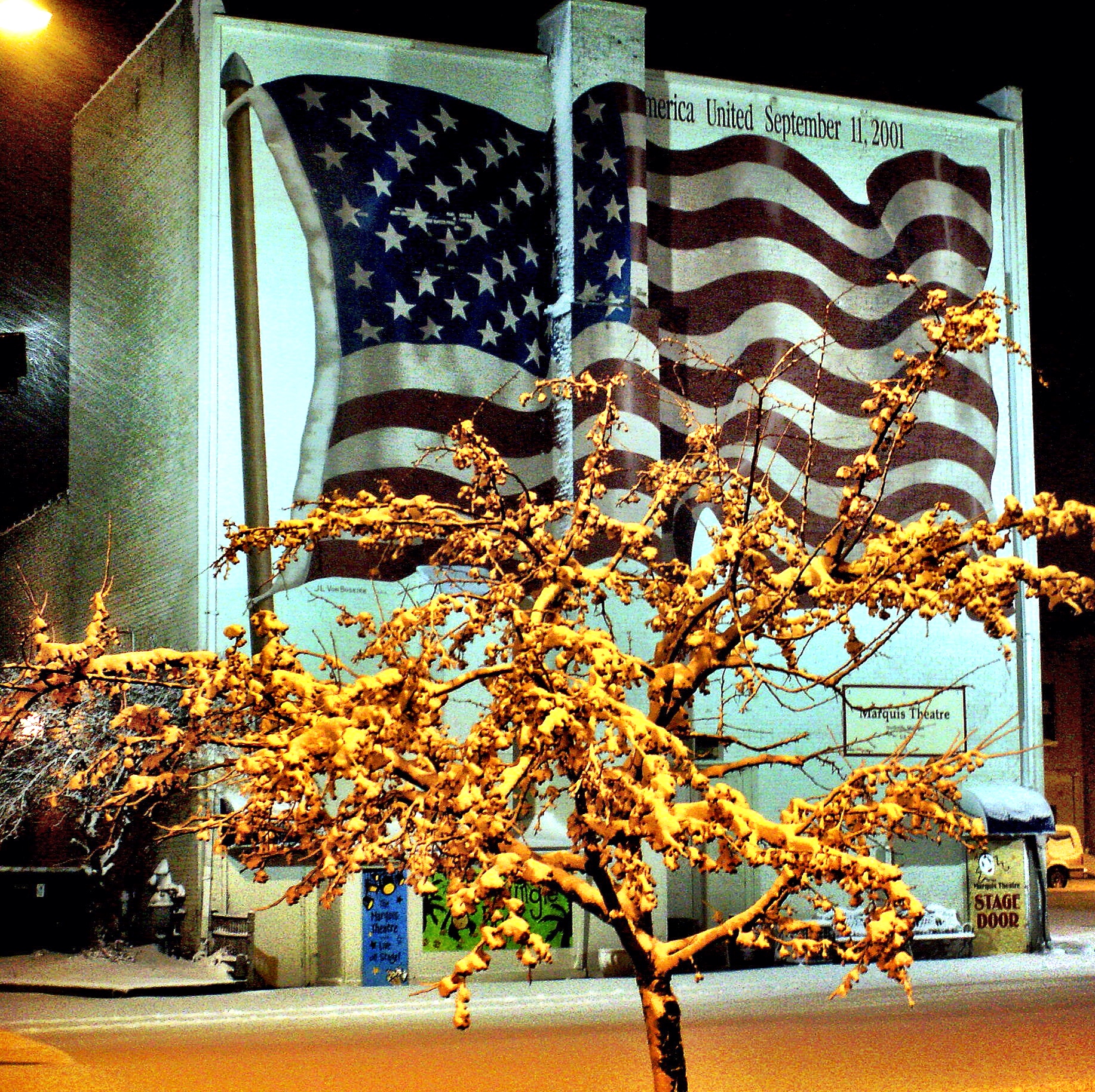 "You're a Grand Old Flag, A High Flying Flag…"

Northville, Mich – The Marquis Theatre in historic downtown Northville proudly displays an American flag of epic proportions with a caption that reads simply: America United September 11, 2001. All eyes are on "Old Glory" and she is in need of a little touch up. The Northville Rotary Club and Preservation Dental are teaming up to assist the Marquis Theatre by raising funds, holding a raffle, for the necessary renovation. Raffle tickets are scheduled to go on sale Friday, November 22, 2013 immediately following the Holiday Lighted Parade in downtown Northville.
Everyone can salute the flag project with a $100 donation for a raffle ticket – which will potentially give them a one-in-five hundred chance at $10,000! Only 500 tickets will be sold, each for $100. The projected prizes are: 1st Prize $10,000 – 2nd Prize $5,000 – 3rd Prize $2,500.* And there's more! Everyone who donates will receive public recognition for their contribution and support. Names will be published and proudly displayed in the lobby of the time-honored Marquis Theatre!
Tickets will be on sale at the following locations: Northville Chamber of Commerce 195 S. Main St., Monroe Bank & Trust 201 E. Main St. and Preservation Dental 371 E. Main St. The drawing will be held on Saturday, January 25, 2014 at 9:11 p.m. following a special presentation of the classic film "Yankee Doodle Dandy" at the Marquis Theatre. Tickets for this special movie presentation will be on sale at Preservation Dental, the office of Dr. William S. Demray and at the Marquis Theatre beginning January 3, 2014.
Dr. Demray is thrilled to have community support for this project: "Our flag represents who we are, and always what we want to become. It is symbolic of our foundation, our resiliency, and our strength. It is a beacon. In honor of those who sacrificed so much for it, it is our civic duty to preserve what is truly an icon, boldly displayed in the heart of hometown America."
# # #
*The prizes are determined by actual sales and subject to the approved criteria listed on the official raffle ticket.
About The Marquis Theatre
The theater is a historic Northville landmark, a beautifully restored Victorian building with over 95 years of rich history and tradition. Elegantly designed, it was originally built as a vaudeville and movie house, featuring some of the finest acts of its time. Charlie Chaplin, Mary Pickford, Gypsy Rose Lee and Count Basie were among the many stars that appeared on the Marquis stage. Jay and Inge Zayti purchased the theatre in 1971. Today the theatre is operated under the direction of Christina Zayti. It is the home of the Marquis Theatre Children, a talented group of children who entertain audiences of all ages.
About Preservation Dental

Preservation Dental was established in 1977 by Dr. William S. Demray. It is a family based practice specializing in preservation dentistry. The office is located in a historic Victorian home on the corner of Griswold and Main. Dr. Demray and his staff serve on Boards, help raise funds, and work tirelessly with community leaders – always tackling projects with genuine enthusiasm and a hands-on approach. Preservation Dental has helped raise more than $100,000 for worthwhile causes that touch the hearts and lives of family, friends, neighbors and patients. Dr. Demray continues to be humbled and is proud to be giving back to the community that has been so generous and gracious to his practice.
About Northville Rotary Club
Rotary is a worldwide network of inspired individuals who translate their passions into relevant social causes to change lives in communities. The Northville Rotary Club was founded in 1926. In the past 87 years, members have provided leadership and financial support to numerous projects locally and worldwide. Recent projects include the operation of the Rotary Well, fundraising for Civic Concern through the Annual Rotary Goodfellows Newspaper Sale in December, backpacks and school supplies for Judson Center, hosting high school exchange students from Germany, South Korea, Thailand and Brazil, scholarships for Northville High School students, water filtration systems in El Salvador, sports equipment for students in Honduras, and school supplies in Peru. Rotarians, as the leaders in their community, take action when needed and are committed to make their community and the world a better place through service above self. Members meet weekly at noon on Tuesday at the First Presbyterian Church, 200 E. Main, Northville MI 48167.