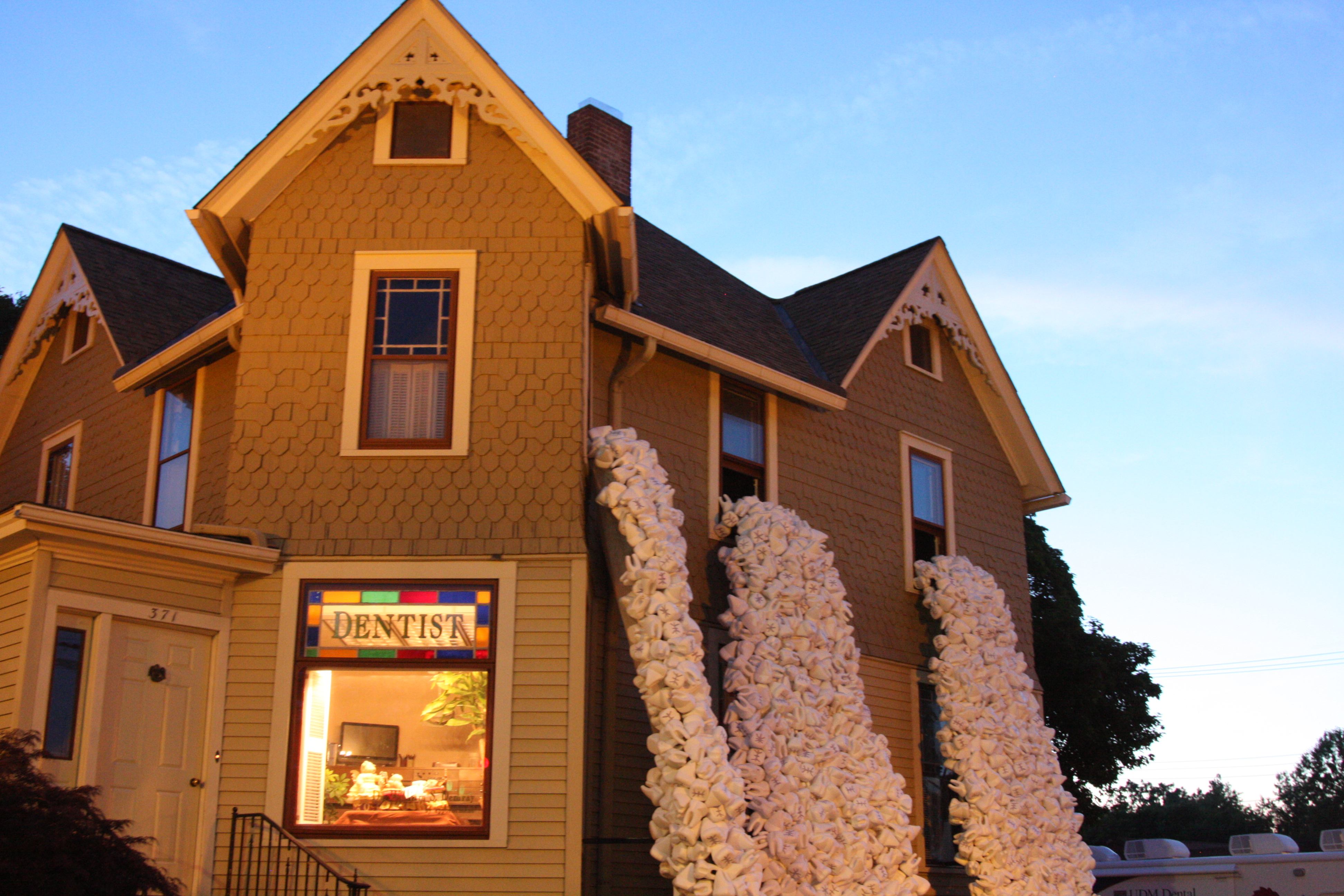 CALLING ALL TOOTH ARTISTS!
Create your own Acci-DENTAL Masterpiece
Northville, Mich – There was a toothquake, that caused a toothfall and now there is a cascade of Michigan-made molars tumbling from the second story window of Preservation Dental in downtown Northville – 3,333 to be exact. News of the eye-catching display has spread. The unique art installation has drawn visitors from all over Michigan. Travelers from California, Colorado, Texas, Florida, Illinois, New York, New Jersey, and Windsor, Toronto and as far away as Australia have stopped by for a photo op!
Everyone asks: "Why?" It was the hope of Dr. William Demray, the founder of Preservation Dental that people would stop and look, laugh out loud and ask questions.
This would open the door for Dr. Demray and the staff at Preservation Dental to talk about hidden sugars, the importance of brushing two times a day for two minutes and the incredible benefit of using a rubber tip stimulator. Dental decay is the most prevalent disease on the planet, at a time when there is an information super-highway leading straight through a life of health consciousness.
Some ask: "Can I have a tooth?" Preservation Dental has 1,000 teeth available. Dr. Demray recognizes he has ben privileged to serve the needs of his patients in the community of Northville – now he hopes to pay it forward by raising money for children everywhere who do not have regular access to preventative dental care. He is working in part with the University of Detroit Mercy School of Dentistry's Community Outreach Program. The Titan's for Teeth Mobile Clinic brings dental care to the children.
The exhibit is the brainchild of Dr. Demray but now he is hoping others will join the fun and decorate a tooth. Donate $20 to get your own Michigan-made molar. Create your own Acci-DENTAL Masterpiece and enter it in the juried art competition that will take place in February 2017 – Children's National Dental Health Month – in Northville, MI. The grand prize for the winning tooth-artist 12 years of age-and-under is $371. The prize for the winning tooth-artist 13 years of age or older is $1,111.00. If you are not artistic – you can support the effort to bring the mobile dental unit to a school in need, by simply making a donation – and still get your own tooth.
Dr. Demray is reaching out to his colleagues, to the dental associations, dental suppliers, insurance companies, his patients and everyone everywhere who has the benefit of seeing a dentist on a regular basis. He recognizes going to the dentist is not on anyone's Top Ten List – but it could be, if it's fun. Preservation Dental works hard to make it fun. They strive to change the face of dentistry one patient at a time! In a lifetime, we could wipe out dental decay – and help to prevent the diseases that result from poor oral hygiene – including heart conditions and diabetes.
There is one more popular question: "How did the teeth get here? Well, according to Dr. Demray: "The story begins with the Tooth Fairy building a new warehouse at an undisclosed location in Northville…" For complete details visit Toothfairyoverstock.com.
# # #
About Preservation Dental and Dr. William S. Demray DDS
Dr. William Demray is the founder of Preservation Dental. Since 1977, he has owned and operated the general dentistry practice. As a visionary in the dental field, Dr. Demray has encouraged patients to follow a healthy oral hygiene plan to preserve teeth and gums throughout life. Medical research now recognizes oral and systemic health as closely related. Preservation Dental continues to welcome new patients and Dr. Demray has a hands-on approach to the day-to-day operations of the practice.
About the Tooth
The Michigan-made molars were manufactured at SPI Blow Molding in Coloma, MI. SPI offers fully integrated contract manufacturing services for plastic injection and blow molding needs. The SPI mission is to manufacture the highest quality plastic part, delivered on time, at a fair price.
About the UDM Mobile Dental Unit
The Titans for Teeth Mobile Clinic is a 38-foot mobile dental coach, which holds a four-chair clinic. The mobile clinic travels to local schools to provide comprehensive care for K-12 children, as well as Early Head-Start and Head Start programs. The University of Detroit Mercy (UDM) is a Catholic University in the Jesuit and Mercy traditions. The University of Detroit Mercy School of Dentistry was founded in 1932.