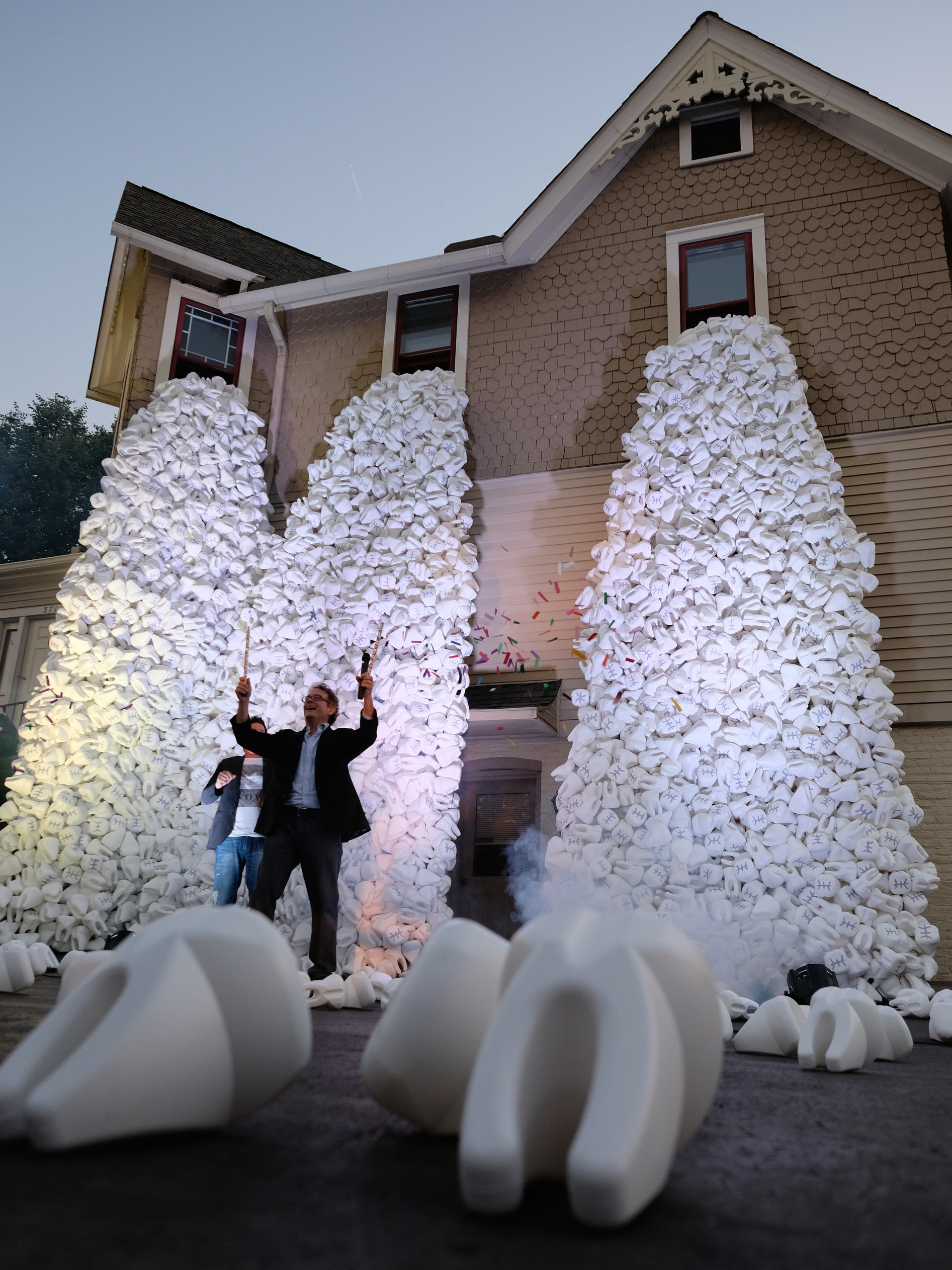 NEWS!
How Many Teeth Are In A Tooth-Acre?
43,500
Northville, Mich. – When is a tooth not a tooth? When it is the canvas for an acci-dental masterpiece! The story began with a bright idea. Dr. William Demray, the founder of Preservation Dental in Northville, Michigan, thought about an unusual art installation to support the many community events that take place in the downtown district. He also thought about all the travelers visiting family and the motorists being rerouted during construction. The story that followed was nothing less than fantastical:
Rumor had it the Tooth Fairy was building a new warehouse in an undisclosed location in Northville. Demray contacted her to offer a temporary home at his Victorian-style office building. When she moved in she brought many of the teeth she had collected from under pillows all over the world. There were so many that it caused the historic home office to tremble – with excitement and an overstock of teeth! One day they all came tumbling out of the windows of the 2nd story. The Tooth Fairy called on her good friend Jasen Magic to help her out. He waved the TF molar wand and magically froze the tumbling teeth.
The result is a toothfall cascade – the largest display of tumbling teeth in the world! There are 3,333 teeth welded on three separate armatures, measuring 23 ft. x 26 ft. wide; and each molded tooth is 6 in. x 9 in. white plastic, with UV protection so they won't yellow. One single cavity mold was used to manufacture all of the teeth at SPI Blow Molding in Coloma, Michigan.
Preservation Dental has 1,000 extra teeth available. Dr. Demray is inviting everyone to have fun creating his or her very own Acci-DENTAL Masterpiece. Tooth artists can enter a juried art competition that will take place in February 2017 – Children's National Dental Health Month – in Northville, MI. The grand prize for the winning tooth-artist 12 years of age-and-under is $371. The prize for the winning tooth-artist 13 years of age or older is $1,111.00. There will also be a People's Choice Award – sponsored by TDR Specialists in Orthodontics. The suggested donation for a tooth is $20. The proceeds benefit in part the University of Detroit Mercy School of Dentistry Community Outreach Program, which operates a mobile dental clinic that goes out into the community to provide dental care for children in need. Any donation is welcome – and folks can get a tooth to save a tooth without entering the art contest.
Dental decay is the most prevalent disease on the planet, at a time when there is an information super-highway leading straight through a life of health consciousness. In Demray's lifetime folks have rallied to post warnings on packs of cigarettes; every child willingly expects to be buckled up – in a car seat or a seat belt; recycling is a way of life. He believes parents can help wipe out dental decay – and ultimately help to prevent diseases resulting from poor oral hygiene – including heart conditions and diabetes.
The Acci-DENTAL Masterpiece promises to inspire the artist and it reaches out to those with access to quality, affordable dental care to lend a hand to those without. It is a project intended to pay it forward. For complete details visit toothfairyoverstock.com. You can also follow the project on Facebook, Instagram and Twitter @toothfall.
# # #